Do you love smoothies for breakfast? They can be so much easier and faster to prepare and can be great when rushing out the door! My kids love smoothies and are always begging for them. They love them so much that I've figured out they will just about do anything for me to make them one. I mean, they will unload the dishwasher, put away laundry, clean their rooms…I'm dead serious! It's pretty fantastic!
Over the past couple months I have been learning so much about micronutrients and how important they are to our body. There are some that are essential, meaning that our body does not make them and we have to get them from our diet. If you know me, you know we do not eat junk in our house. It actually bothers me that so many kids are fed so poorly in America. People are getting fatter, lazier, and sicker. Ok, I digress.
Anyway, this smoothie was created to give you a nutrient packed meal or snack and you will be amazed how delicious it is! All 3 of my kids (ages 2 to 7) love it! I think it tastes like a chocolate milk shake. Sometimes we garnish it with coconut cream and raw fermented cacao nibs for an extra nutrient punch! Let me know what you think…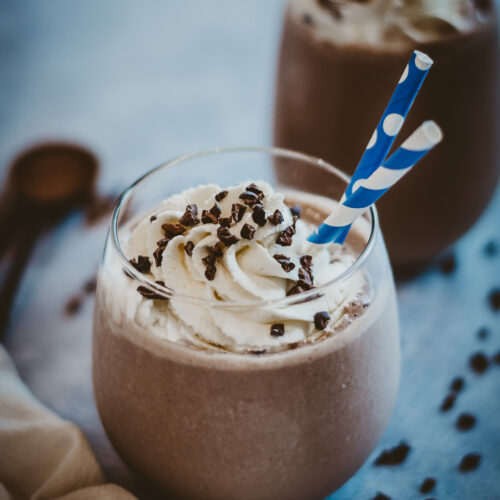 Superfood Smoothie
Ingredients
1

cup

almond milk

1/2

cup

water

1

frozen banana

handful

ice

2

Tbsp

almond butter

2

Tbsp

flax oil

-can be omitted, but this provides great omega-3 fatty acids

2

Tbsp

pumpkin seeds

2

Tbsp

sunflower seeds

1

Tbsp

cacao powder

about 8

walnuts

6

brazil nuts

(optional) garnish with coconut cream and raw cacao nibs
Instructions
Place all ingredients in a high powered blender and blend until smooth.
Notes
When your bananas get a little too ripe for your liking, peel them and place them in a large ziploc bag in the freezer to have on hand for smoothies. The more ripe they are, the more sweet they will taste.