Whew, life has been busy lately! I feel like some stages of life are for rest and some are for hustle, and our current stage is definitely all about the hustle! I actually thrive on hustle, so I'm not complaining. Actually there's not even time to complain…just enough time to cross off items on my to do lists, get kids to where they need to be, keep up with all of our homeschooling activities, and keep everyone alive! Oh, and make sure everyone is happy! I know the weather will be super cold in a few months and life will be all about snuggling by the fire with my babies and there will be plenty of relaxing, so we will enjoy the hustle and be grateful for the exact place we are in right now!
Moving on to this delicious barbecue sauce recipe. It's actually my old recipe that has just been altered a bit. Over the past 6 or so years, I feel like our health journey has been ever-changing. The past year and a half we have fine tuned it to perfection (at least I think so!). So, now I feel like I have to make modifications to many of my "healthy" (or what I thought was healthy) recipes. I'm always doing this, but I just don't have time to blog about it or write anything down. I'm trying to be more mindful about doing that, as one day I would love to publish my own cookbook! YAY!!
This barbecue sauce is super easy to make and not full of a bunch of junk that you would find in store bought sauces.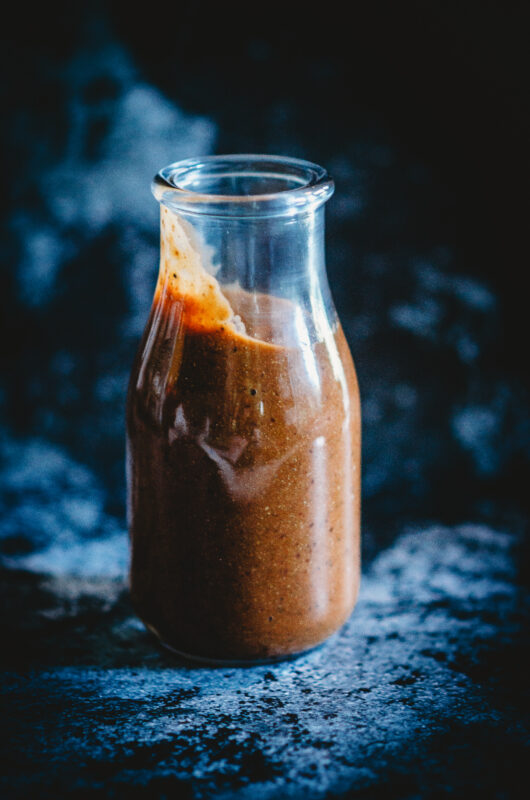 Ingredients
2

Tbsp

Avocado oil

1/8

cup

minced onion

2

garlic cloves (minced)

1

cup

Tomato sauce

-can sub ketchup (I recommend Primal Kitchen)

1/2

cup

dijon mustard

1/4

cup

red wine

(can omit if preferred)

1/4

cup

apple cider vinegar

1/4

cup

coconut aminos

1

Tbsp

ground cumin

1/2

tsp

black pepper

salt to taste

crushed red pepper (approx 1-2 tsp)

(for spicy sauce)
Instructions
Heat the avocao oil over medium heat (using a medium sized pot).

Add the minced onions and saute for about 5 minutes, until tender.

Add the garlic and saute for an additional 1-2 minutes. (You may want to turn the heat down a little to prevent burning the garlic.)

Add all other ingredients and bring the sauce to a low boil and then turn to simmer and allow to simmer for about 5 minutes.

Taste the sauce and add salt or crushed red pepper if needed.

Once the sauce is slighty cooled, place in a blender and blend until smooth. (This step is optional…just depends if the small onion bits bother you. If you blend the sauce, it tends to get a little thicker in consistency…I just add a little water to get the consistency I prefer.)

Keep the sauce refrigerated for up to several weeks.