Let me start off by saying I'm not the biggest seafood lover. I'm really trying to like fish though. I feel like there are so many health benefits and I want my kids to grow up liking it as well.
I found a grocery store by our house that gets fresh, local, wild-caught fish every Friday. I decided to try the red snapper because I didn't think it would taste overly fishy and it was delicious! At first it stunk up our house like fish and all of my kids were gagging! Ha! Then, once it was cooked and I convinced them to try it, they were in love and ate everything until it was gone! Success!
I flavored the fish with a tequila lime seasoning that I purchased from the store, but I have also made the fish in the past with fresh lime juice, salt, pepper, garlic, cumin, and a little olive oil and it was great. I also loaded the tacos with fresh pico, avocado, cilantro, salsa, purple cabbage, and a spicy sauce that I made.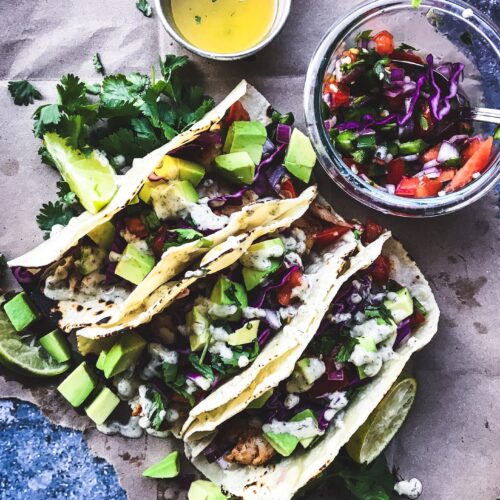 Fish Tacos
Ingredients
1

lb

white fish of choice

– I recommend mahi mahi or red snapper

4

Tbsp

olive oil

1

Tbsp

fresh lime juice

½

tsp

chili powder

½

tsp

cumin

½

tsp

sea salt

¼

tsp

black pepper

fresh pico (diced tomatoes, onions, jalapenos, and cilantro)

-for garnish

sliced avocados

-for garnish

shredded purple cabbage

-for garnish
Instructions
Drizzle 2 Tbsp oilve oil and lime juice over the fish and then sprinkle with salt, pepper, cumin, chili powder, and garlic powder.

In a skillet over medium heat, cook the fish (skin side down) in the remaining 2 Tbsp olive oil. Cook for about 3 minutes.

Turn the fish over and cook for an additional 3 minutes, or until it begins to flake away from the skin when pierced with a fork.

Flake away all of the fish off the skin in bite size pieces (then remove the skin from the pan) and mix together in the pan with all of the juice and seasonings for about 1 minute.

Serve in warm tortillas and garnish with options listed above.
Notes
This fish is also very tasty when drizzled with butter. I like to make a butter sauce with garlic powder, salt, and chopped cilantro added to the melted butter.