Let me start by saying that I love, no adore, Cuban food. I mean, they really know how to season their food. Last night I was really needing a change to our normal diner routine and I've made a beef roast that is very similar in the past and it's delicious, but I think I like this dish even more.
It very closely resembles the authentic Cuban dish, Ropa Vieja. This dish is typically served with rice and usually some very delicious fried plantains. I was hesitant to serve it with anything else, but I'm really trying to eat less carbs and more nutrient dense food. Insert riced cauliflower…delicious! I bought pre-packaged riced cauliflower from Costco and simply sautéed it with a little salt and grass-fed butter and it only took about 5 minutes or so. My kids devoured it and my 2 year old ate a bowl of the cauliflower by itself. Winning!
One trick I have learned to making the best roasts, whether it's beef or pork, is to cut the roast in to 3 inch cubes prior to slow cooking. It allows the meat to cook fast and more evenly. This recipe can be cooked in an instapot or crock-pot.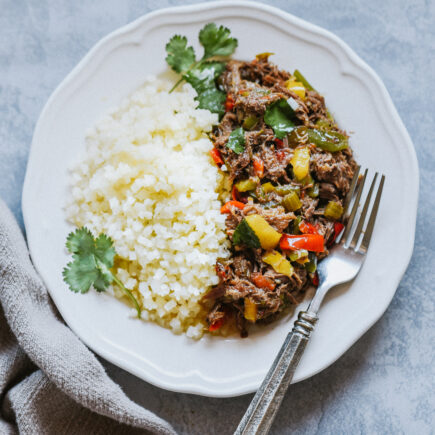 Paleo-Friendly Ropa Vieja
Ingredients
1

grass-fed beef chuck roast

(2-4 lbs)

3

cloves minced garlic

2

tsp

cumin

1

tsp

real sea salt

(Redmond's is seriously the best)

4

Tbsp

grass-fed butter

½

cup

diced onion

3

stalks celery-diced

2

bell peppers-chopped

-I used red and yellow

chopped cilantro

-for garnish

1 cup water or beef broth if using an instapot
Instructions
Cut the beef roast in cubes, about 3 inches in size, and place in the slow cooker.

Sprinkle the salt and cumin over the meat.

Cut the butter into small slices and spread out over the top of the meat.

Cook on low for about 4 hours. (The meat should easily fall apart when done.)

Add the onion, celery, and bell peppers to the roast and cook for another 30-60 minutes.

Once it's finished, I usually find that I need to add a bit more salt (about 1 tsp). Salt the roast to your taste.

Serve with rice, or riced cauliflower for a low-carb option.

Garnish with freshly chopped cilantro.
Notes
If using the instapot, follow the directions above, but also add 1 cup of water or beef broth to the pot. Cook on the meat setting for 60 minutes. If the meat does not easily fall apart, cook for an additional 15-20 minutes. Open the lid and add the vegetables and cook for an additional 15-20 minutes. Enjoy!