I haven't made scones in a while and I've been wondering how they would turn out if I were to make some that we free of gluten and refined sugar. I was a little skeptical because what makes a scone so delicious is how it crumbles from the flour and the butter. I think I have finally found the perfect combination of gluten free flours to make them resemble the scones we all love!
I added freeze dried blueberries, but thinking of making pumpkin scones next time. When adding fruit to baked goods, try using the freeze-dried varieties so it doesn't make the gluten free flours wet and have a soggy outcome.
I hope you enjoy these! They will last several days in the refrigerator and pair nicely with a warm cup of coffee in the morning.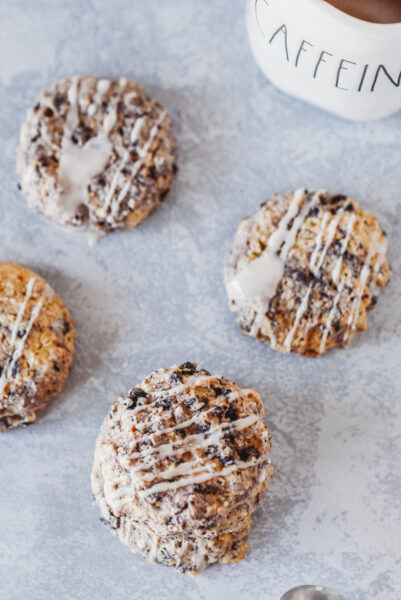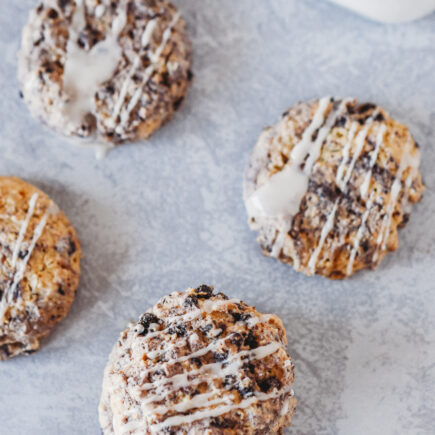 Blueberry Scones
Ingredients
1

cup

blanched almond flour

1/2

cup

buckwheat flour

(yes, it's gluten free)

1/2

cup

arrowroot flour

1/2

cup

oats

⅓

cup

coconut palm sugar

¾

tsp

psyllium husk or xantham gum

½

tsp

baking powder

¼

tsp

salt

½

cup

frozen butter (place 1 stick of butter in freezer ahead of time)

⅓

cup

almond milk

1

egg

1

Tbsp

fresh lemon juice

1

tsp

vanilla

¾

cup

freeze dried blueberries
Instructions
Place all dry ingredients in a food processor and pulse about 15 seconds to mix everything well.

Grate the frozen butter using a cheese grater. (Freezing the butter keeps it from softening and melting as you work the dough.)

Add the butter to the food processor and only pulse a few times until the butter is incorporated and the batter appears crumbly. (Do not overmix.) Then place this mixture in a large mixing bowl.

In a separate mixing bowl, whisk together the egg, almond milk, lemon juice, and vanilla.

Pour the wet indredients into the dry ingredients and mix together until everything is moistened, but do not overmix. (Overmixing scone dough will result in flat, dry scones. The dough should appear messy and crumbly.)

Fold the blueberries into the dough.

On a floured surface, drop your dough and using floured hands flatten it out into a large circle that is about ½ inch thick. (Dough will be sticky. Add a few Tbsp flour if needed.)

Using a greased pizza cutter, cut them into triangles (or use a greased cookie cutter for cutting the dough). I sometimes just drop them right onto the pan using a cookie dough scooper and flatten them a bit with my hand.

Place them on a parchment lined baking sheet and bake for about 18-22 minutes.

Optional: Drizzle with a lemon glaze.