What?!? 2 posts in 2 days…well, I guess waking up before my kids has its benefits! Gonna need that extra cup of coffee today.
Not sure if I have mentioned here that I am currently enrolled in a culinary nutrition program. It's been super fun and an awesome experience. We are about half way through this semester and I'm totally loving it. Cooking is my passion and I love learning about nutrition and how to fuel my body the best I can. I've already learned so much great information…that will have to be another post someday!
This egg frittata recipe was one that I created for an assignment. I'm currently studying prediabetes and did you know that 1 in 3 Americans have this condition and 90% of them don't even know it?! OMG, this is super sad. The American diet is just so horrible. We are literally eating ourselves into the grave.
I urge you to step away from your processed breakfast cereal, english muffin, bagel, egg McMuffin or whatever your typical breakfast may be and to eat something that will actually fuel you to get through your morning. This recipe gives you protein and healthy fats to start your body off right. It's super easy to make and can easily be made ahead of time and just heated in the morning. It will leave you feeling satisfied and you won't be reaching for that next carb loaded snack at 10am!
It's also super easy to modify to your liking. The veggies could be swapped for others and the sausage could be swapped for any meat you desire. (You could also leave the meat out and still get plenty of protein.) I hope you enjoy it!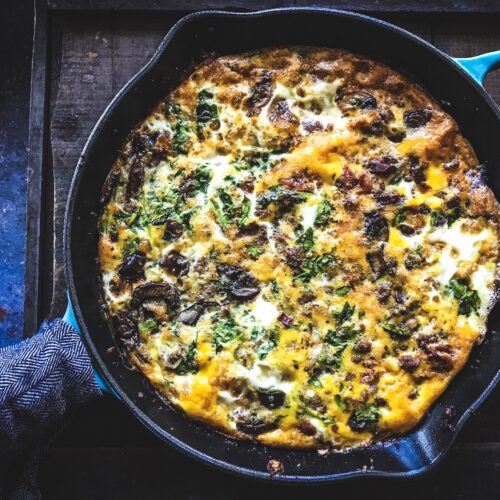 Egg Frittata
Ingredients
1-2

Tbsp

avocado oil

-can sub olive oil or coconut oil

1/3

cup

diced onion

2

cloves

garlic

-can sub 1/2 tsp garlic powder

1/2

lb

ground organic sausage

-can sub ground beef or bacon (can omit if desired, but replace with veggie of choice)

1/2

cup

chopped mushrooms

1

cup

chopped baby kale

-can sub spinach or broccoli

10

eggs

-organic, cage free if possible

ground pepper

-to taste

salt

-to taste
Instructions
Preheat oven to 400 degrees.

Heat the avocado oil over the stove in a medium sized cast iron skillet. (If using a large cast iron, you may want to increase the number of eggs to 12.)

Add the minced onion and saute for about 3-5 mnutes, until tender.

Add the garlic to the onions and saute for an additional minute.

Add the sausage or ground beef to the onion mixture and cook until browned. (If meat not preseasoned, season to taste.) –I buy mine from an organic farm and the sausage is seasoned with salt, pepper, and sage.

Once the meat is cooked, add the chopped mushrooms and incorporate them well.

Add the chopped kale and make sure all of the ingredients are mixed well.

Crack all of the eggs into a medium sized mixing bowl and whisk them well. (I usually add a pinch or two of sea salt and black pepper to my egg mixture.)

Add all of the eggs to your skillet and then transfer to the preheated oven.

Bake for approx 15 minutes, until eggs are barely browned on the edges.
Notes
Optional add-ins–chopped bell pepper, jalapeños, chopped bacon, tomatoes, cilantro, parsley, basil.
This is also great topped with slices of avocado and chopped cilantro when serving.