Pumpkin is packed full of so many vitamins and antioxidants. It's also the perfect time of year for baking with pumpkin…fall is in the air and I love when my house has the smell of freshly baked cookies.
These cookies are so healthy they could even pass as a great breakfast when in a hurry or sitting on the porch sipping some hot coffee. I may or may not have done the latter on many occasions!
This recipe was developed so that I could use the entire can of pumpkin, but feel free to cut the recipe in half…or just make a bunch of cookies and freeze some! (These cookies don't last more than 3 days in my house!)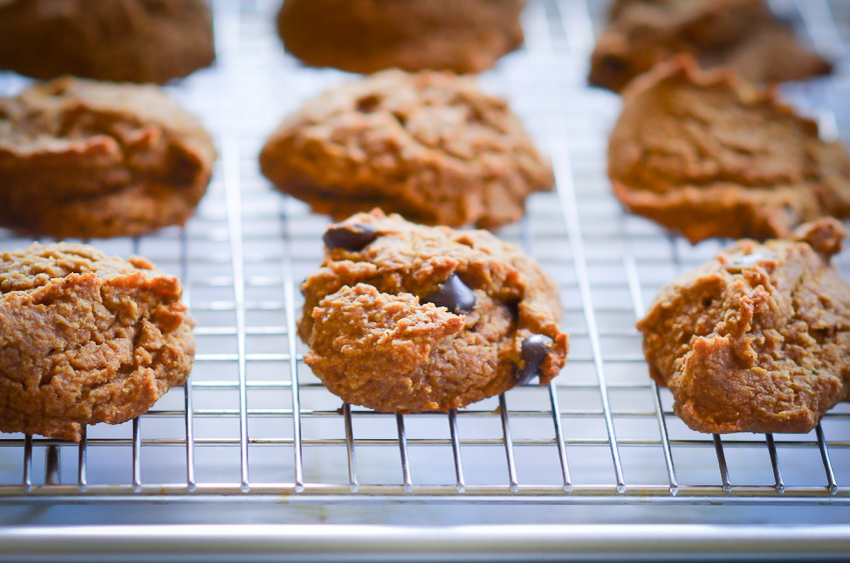 Pumpkin Cookies
Ingredients
1

can

Pumpkin

–not pumpkin pie filling

1/2

cup

melted butter

–can substitue coconut oil

4-8

tbsp

maple syrup

–adjust for level of sweetness (I use 4 tbsp)

1

egg

1

tbsp

vanilla extract

3 1/2

cups

blanched almond flour

1 1/2

tbsp

pumpkin pie spice

1 1/2

tbsp

ground cinnamon

2

tsp

psyllum husk or xantham gum

–optional (helps to bind the cookies)

1

tsp

baking powder

1

tsp

baking soda

1/2

tsp

salt

raisins/chocolate chips

–optional add-ins
Instructions
Mix all wet ingredients (pumpkin, butter, syrup, egg, and vanilla) in a medium mixing bowl.

Mix all the dry ingredients in a large mixing bowl.

Incorporate the wet ingredients into the dry ingredients and mix well.

Optional: add in your choice of raisins or chocolate chips (approx 3/4 cup)

Drop spoonfuls of dough (slightly larger than 1 Tbsp) onto parchment lined baking sheet.

Cook at 375 for approx 26-28 minutes.

Keep extra cookies in refrigerator for 4-5 days.