This dish totally caught me by surprise. What I mean is that I am not a big fish lover and I just always figured salmon was not something I would probably like. My mind told me that it tasted fishy…not sure why because I can't remember ever eating or even trying it! What also surprised me is that my kids loved it as well. Winning! I mean, the whopping dose of heart healthy omega-3s entering my body just makes me want to do a happy dance!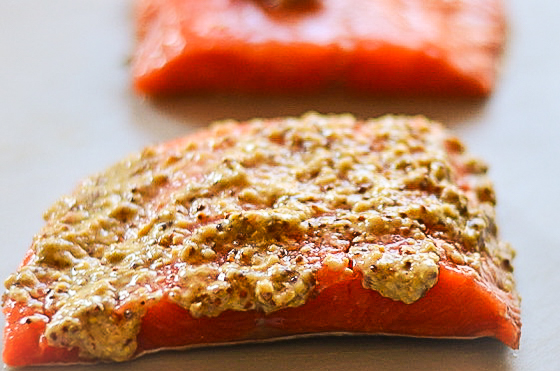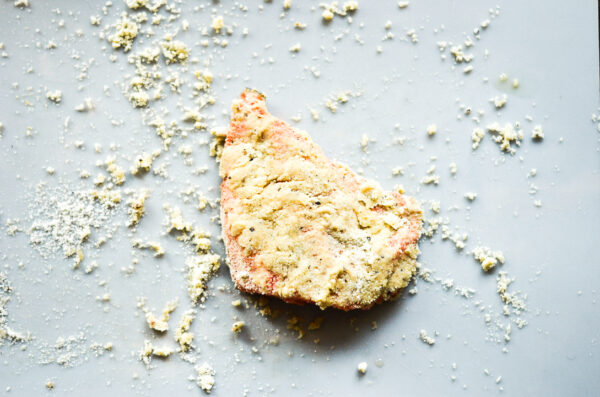 Not only is it healthy, it's SO easy and so quick to put together. Pair it with some dark, leafy greens and you can just slap yo momma and call yourself healthy! Ok, don't slap your mom, but you seriously need to try this…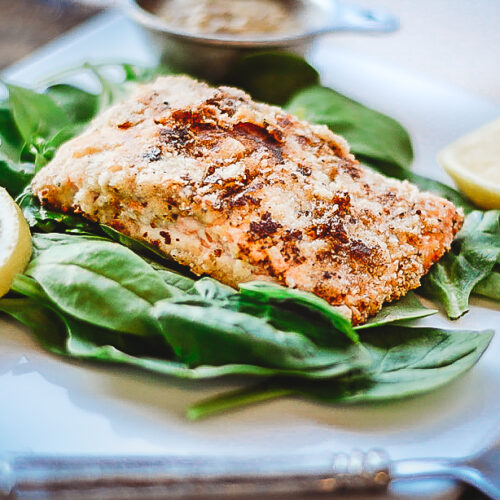 Almond Crusted Salmon
Ingredients
4

wild-caught salmon filets

4

Tbsp

stone ground mustard

-I recommend Organicville

3

Tbsp

olive oil

-1 Tbsp for breading mixture/2Tbsp for pan

½

cup

almond flour

½

tsp

real seal salt

¼

tsp

garlic powder

¼

tsp

onion powder

¼

tsp

black pepper
Instructions
In a small mixing bowl, combine 2 Tbsp olive oil and 3 Tbsp dijon mustard and mix well.

Using a basting brush, brush the mustard over the tops of salmon filets.

In another mixing bowl, mix the almond flour, 1 Tbsp olive oil, garlic powder, onion powder, sea salt, and pepper.

Coat the tops of the salmon with the almond flour mixture. You can sprinkle the flour mixture over the top of the salmon and then press it down to help it stick. Make sure there is a good, even coating of the flour over the filets.

In a skillet over medium-high heat, pour the remaining 2 Tbsp olive oil in the pan. Make sure the bottom of the pan is well coated with the oil. (Add another Tbsp if necessary.)

Place the filet in the pan, skin side up and cook for about 3 minutes.

Turn it over and cook with the skin side down for another 3-4 minutes, until done. Fish will start to flake when done. You can peel the skin off as soon as it's done, or serve with the skin on. Fish should easily flake away from the skin.