This is one of my easiest recipes and one of my favorite meals! I also happen to think that this is a meal that even tastes better the second day…and I love having good leftovers!
The hubby loves them, the kids love them, and that makes for one happy momma.  I mean, who doesn't love the combination of ground beef, rice, and tomatoes all stuffed in a fresh tasting veggie that I happened to pick from my garden??  They are also really good when topped with marinara sauce.
I've made these several different ways and now days I tend to make them without rice and I substitute riced broccoli or broccoli slaw. Sometimes I also toss in some fresh chopped spinach.
Hope you enjoy!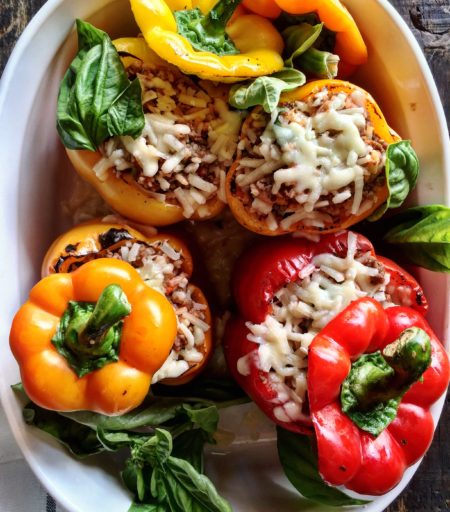 Stuffed Bell Peppers
Ingredients
4-6

bell peppers

2

Tbsp

olive oil

1/3

cup

diced onion

2

cloves

minced garlic

-or 1 tsp garlic powder

1

lb

ground beef

1

tsp

sea salt

-or to taste

1

cup

riced broccoli or broccoli slaw

2

cups

tomato sauce

(I highly recommend San Marzano canned tomatoes or sauce)

fresh basil to garnish

-optional
Instructions
Preheat oven to 350 degrees.

Cut off the tops of each bell pepper and remove the seeds/membranes from each pepper.

Cook the peppers in a large pot of boiling water for about 5 minutes (to soften).

Begin to saute the onion and olive oil in a large skillet on medium heat for about 3-5 minutes, then add the garlic.

Add the ground beef and salt and cook until meat is browned.

Once meat is cooked, add the riced broccoli or broccoli slaw and cook an additional 3-5 minutes.

In a large mixing bowl, mix the meat/brocccoli mixture with the tomatoes/sauce until combined. (Crush any large tomatoes. Taste and add more salt/garlic if needed.)

Stuff each pepper with the meat mixture and place in a deep baking dish.

Garnish with fresh basil or marinara sauce.