Have you ever given your kale a massage? I'm serious! This is a snazzy little trick I learned from The Academy of Culinary Nutrition. Have you ever had a big bowl full of kale and wonder why people love it so much? It can be bitter and tough. Well, no longer my friend! Next time, just sit down, take a load off and massage your kale for about 5 minutes. You'll never go back, I promise! You will also find yourself actually eating that poor kale sitting in your refrigerator instead of taking it out with the trash when it's gone bad.
My hubby loved it so much, we have been buying a huge bag every week and actually eating it!!! I just feel healthier when I'm eating a big bowl of it. Now, when you get ready and all of your kale is de-stemmed and chopped, place it in a large mixing bowl, squeeze half of a lemon over it, pour about 1-2 Tbsp olive oil on it and sprinkle a little sea salt and get massaging! The acidity and salt help to break it down and make it so much more tender and the oil also helps with the tenderness. Don't worry, the kale will still have plenty of crunch!
Let me know what you think about this method!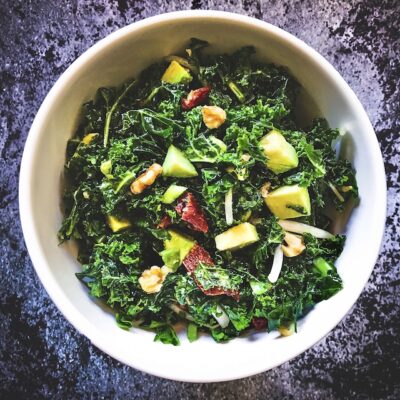 Delicious Kale Salad
Ingredients
1

bunch

kale (any type other than baby kale)

handful

fresh spinach

1

Tbsp

fresh lemon juice

-just squeeze half of a lemon with lemon squeezer

2

Tbsp

olive oil

1

cup

sliced fresh strawberries

½

cup

chopped pecans

– or roasted pecans

¼

tsp

sea salt
Instructions
De-stem the kale. Do this by grabbing the bottom of the stem and sliding fingers all the way up the stem pulling off all of the kale leaves.

Chop the kale. I like mine in smaller pieces.

Place the kale in a large mixing bowl and pour lemon juice, olive oil, and sea salt over the kale.

Start massaging the kale and continue to massage and mix with your hands for about 5 minutes.

Once the kale is ready (It will appear much darker green and will be more tender), I like to toss in some fresh spinach.

Add the fresh strawberries and chopped pecans to the salad and serve with a balsamic/olive oil mixture. (See below)
Notes
I love making my own dressings. For this salad I just like it with balsamic vinegar and olive oil. I usually add about 3 parts olive oil to 1 part balsamic vinegar. (So, if I add 3 Tbsp olive oil, I would use 1 Tbsp balsamic vinegar.) I usually add a bit more salt when adding the dressing, but just taste it and see what you think.
Feel free to add any other healthy toppings…avocados, grilled chicken, veggies, bacon just to name a few!