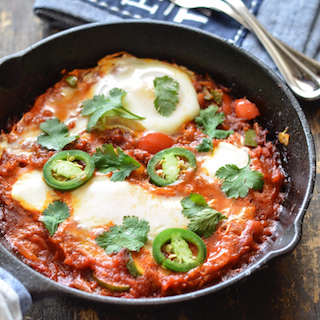 I think my husband was literally in heaven when I placed this in front of him this morning! The look on his face was priceless and the taste did not disappoint! I'm more of the pancake/waffle/french toast kind of breakfast person, while he is the egg and bacon type. However, I could eat these huevos rancheros any day…and I'm not really even an egg person.
I started with some diced onion and potatoes, then added some bell peppers and jalapenos…let it simmer and then added a jar of crushed tomatoes. When potatoes were fork tender, I made several wells in the pan and added an egg in each well and cooked for about another 5 minutes. (I used a medium sized cast iron skillet to serve 2 people, so you may want to double this recipe if making for more people.)
Sometimes this is served over a corn tortilla, which is REALLY good, too!
Huevos Rancheros - Skillet Style
2016-03-03 09:27:05
Serves 2
Ingredients
2 Tbsp oil (for sautéing)
1/4 cup chopped onion
1/2 cup diced potato (or hash browns)
1/4 cup chopped bell pepper
1/2 tsp salt (or to taste)
1/2 tsp ground cumin
2 cloves minced garlic (or 1/2 tsp garlic powder)
1/4 tsp ground black pepper
1/4 tsp ancho chili powder (or regular chili powder)
1 - 1 1/2 cups crushed tomatoes (Cento crushed tomatoes are the best!)
2-4 eggs
Fresh mozzarella or monterey jack cheese
jalapeños for garnish
fresh cilantro for garnish
Instructions
Saute the onion and potatoes in the oil until potatoes become fork tender.
Add the bell pepper and seasonings and sauté for another few minutes.
Add the crushed tomatoes (enough to cover everything...if your tomatoes are "saucy", then you may need to add a couple Tbsps of water)
Once everything is simmering, make little "wells" in your sauce and add one egg per well. ( I just used 2, but use as many as you want)
Cook for another 5-7 minutes, depending on how well you want your eggs cooked.
Top with cheese and garnish with jalapeños and fresh cilantro.
Enjoy!
Enchanted Plate https://enchantedplate.com/