Stuffed Bell Peppers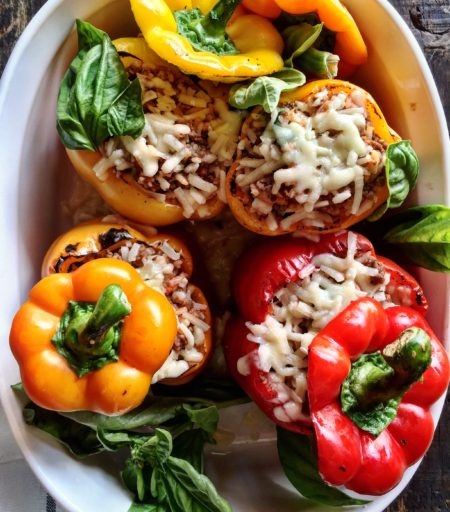 This is one of my easiest recipes and one of my favorite meals! I also happen to think that this is a meal that even tastes better the second day…and I love having good leftovers!
The hubby loves them, the kids love them, and that makes for one happy momma. I mean, who doesn't love the combination of ground beef, rice, tomatoes, and cheese all stuffed in a fresh tasting veggie that I happened to pick from my garden?? They are also really good when topped with marinara sauce.
Stuffed Bell Peppers
2016-07-06 15:00:11
Serves 4
Ingredients
4-6 bell peppers (any color)
1 lb ground beef
1/2 onion - diced
2 Tbsp olive oil
2 garlic cloves (minced) or 1 tsp garlic powder
1 tsp salt (or to taste)
1 cup uncooked rice
2 cups tomato sauce (or diced tomatoes with sauce) - I highly recommend San Marzano tomatoes or sauce...trust me on this one!
3/4 cup shredded mozzarella cheese
fresh basil (optional garnish)
Instructions
Preheat oven to 350 degrees.
Cut off the tops of each bell pepper and remove seeds/membranes from each pepper.
Cook the peppers in a large pot of boiling water for about 5 minutes (to soften).
Meanwhile, cook the rice as directed and set aside.
Begin to saute the onion and olive oil in a large skillet on medium heat for about 5 minutes.
Add the ground beef, salt, and garlic and cook until meat is browned.
Once meat is cooked, mix the meat, rice, and tomatoes in a large bowl until combined. (Add more salt/garlic if needed).
Stuff each pepper with the meat mixture and place in a deep baking dish.
Cook for 30 minutes.
Remove from oven and cover each pepper with shredded cheese and cook for an extra 5-10 minutes, until cheese melts.
Garnish with fresh basil or marinara sauce.
Enjoy!
Enchanted Plate http://enchantedplate.com/
---
---